Solutions for the railway system
Are you looking for a solution to:
Recover the lift of railway embankments or bridge-supporting structures?
Recover the flatness of rails or tracks?
Consolidate sections of the railway embankment?
Stop infiltration in underpasses or tunnels?
WE STABILIZE AND PRESERVE RAILWAY STRUCTURES WITH RESIN INJECTIONS
We offer solid solutions to meet the needs of designers and experts in railway engineering and logistics workers. We support you with consultations, design assistance, and work execution.
We are at your side, CARRYING OUT WORK, and we also work on subcontract to solve specific problems in limited areas.

Thanks to our internal technical office and team of engineers and geologists, we are also available for CONSULTATION and ASSISTANCE with PROJECT DESIGN.
In particular we deal with
Injections of expanding resins for the consolidation of land, railway tracks and embankments
CONSOLIDATION TYPE SECTION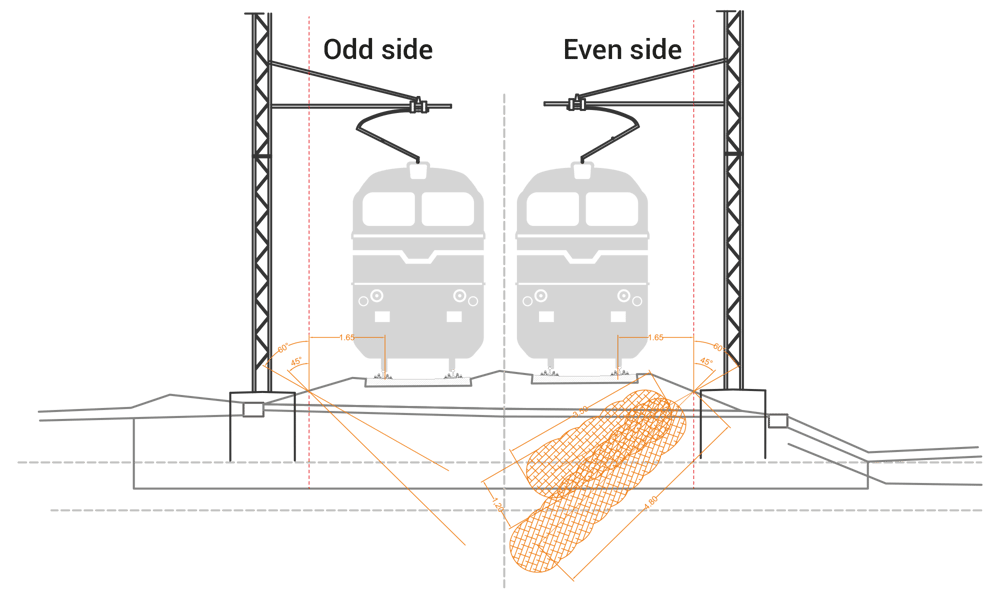 WE OPERATE EVEN IN CONDITIONS OF ACTIVE RAILWAY CIRCULATION, WITHOUT THE NEED TO OPERATE UNDER INTERRUPTION OF THE LINE
WE KNOW YOUR WORLD
AND WE KNOW HOW TO ACT
Targeted, custom interventions

Study
based on specific needs
Project design
based on the structural and geotechnical conditions of the site
Sizing
calibrated with our exclusive calculation software
Custom projects
real-time adaptation to the real conditions of the terrain and structures
Immediate results
results and benefits immediately following the work
QUALIFICATIONS, LICENSES, AND CERTIFICATIONS

URETEK FRANCE HAS SNCF QUALIFICATION
RECOGNIZED KNOW-HOW IN THE RAILWAY SECTOR
VALID UNTIL 2025
URETEK SPAIN IS ASSOCIATED TO MAFEX ASOCIACIÓN FERROVIARIA ESPAÑOLA
URETEK ITALY IS ASSOCIATED TO CIFI AND ANCEFERR
With our exclusive technology, we are able to intervene on sensitive structures (rails, ballast, railway control buildings) to:

stabilize tracks, preserving the integrity of the infrastructure
repair differential settling or decompression of the ground in the railway network
improve the mechanical properties of structures
HOW WE ACT
We inject expanding resin using patented methods. We have completed more than 55,000 projects. We have 30 years of experience reaching objectives with high customer satisfaction.
---
Controlled implementation
We analyse the ground in detail and study possible service networks in the area. We localize the points to treat and drilling to inject expanding resin into the ground, which compacts or lifts the desired section.
Immediate, controlled improvement without polluting the ballast
Our innovative Uretek Deep Injections Ultra® process maintains the functionality of the infrastructure. The quick setting and high expansion pressure of the resin mean that the treated surface can be used again immediately.
Radar surveillance
We control all resin-injection operations using exclusive Uretek radar surveillance technology, monitoring the instantaneous reaction of the structures with a precision of 0.1 mm. Careful monitoring ensures that the work site does not influence the height of the tracks.
Learn how we have solved problems
related to the railway system
We are close to you and we work wherever in the world our professionalism is needed.
We are familiar with your area and bring with us multinational experience.
In 30 years of experience,
we have completed more than 55,000 projects.
WE ARE THE SOLUTION
TO SEVERAL NEEDS