Customer needs
It was necessary to intervene quickly to make the railway safe, but impacting as little as possible on railway traffic.
Why the Uretek solution was chosen:
Speed
Careful planning and programming of the times allowed the work to be completed in just a few days;
Non-invasive
The intervention proposed by Uretek did not require excavations or masonry work, and it did not dirty the area or produce waste;
Localized work
The Uretek team delimited the work area, allowing regular work activities to continue;
Continuous monitoring of the work
Both during and after the intervention, the activities were subject to control by highly qualified personnel using advanced laser technology;
Application of the exclusive Uretek Deep Injections® technology
which, thanks to the special expanding resin Uretek Geoplus®, compacts the ground and stabilizes the structures at a high swelling pressure;
Respect for the environment
the above-ground mixing of Uretek® resins generates an inert final product, which does not release eluates into the ground and any aquifers present.
Uretek is qualified by SNCF WHO RECOGNIZES ITS KNOW-HOW IN THE RAILWAY SECTOR VALID UNTIL JANUARY 2025.
Uretek is associated CIFI, ITALIAN RAILWAY ENGINEERING COLLEGE; MAFEX, SPANISH RAILWAY ASSOCIATION and AETOS, SPANISH ASSOCIATION OF TUNNELS AND METROPOLITAN WORKS.
Installation of Geoplus structural resin with Uretek technology at nr. 81 blocks of support points of as many sleepers / blocks of reinforced concrete. prefabricated 45 x 25 x h 25 cm which are partially drowned in a reinforced concrete slab, on the railway site in question.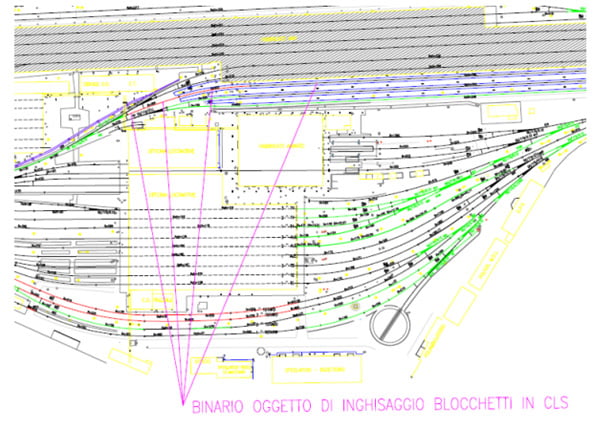 The work cycle consisted of
Perimeter sealing: according to the regularity of the surfaces, using suitable putty paste;
Laying of the resin; given the size of the space to be filled, it was injected (also by means of small holes made in the reinforced concrete sleeper / block).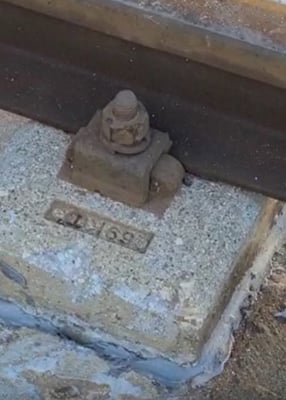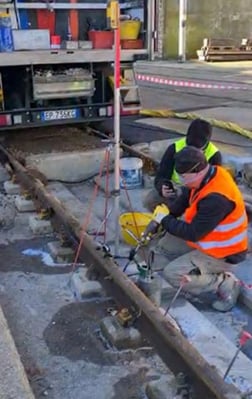 Checks and verifications
Reliefs with comparator. During the resin injection operations, in order to check the behavior of the structure with regard to vertical displacements, a centesimal comparator was used. In the early stages of injection, the expulsion of the water present between the sleeper itself and its housing in the floor was found. Following the injection, a movement of the sleeper was found, at the passage of a convoy, between 1/10 and 2/10 of mm. Before the intervention, the movements were several millimeters.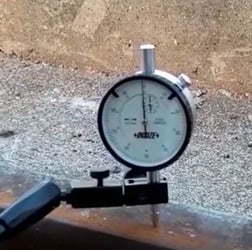 WE ARE THE SOLUTION
TO SEVERAL NEEDS