Solutions for the residential system
Are you looking for a solution to:
Consolidate and reinforce buildings and load-bearing structures?
Adapt to and mitigate seismic risk?
Secure and maintain structures annexed to the buildings?
Carry out structural interventions for additional floors or new installations?
WE STRENGTHEN STRUCTURES AND FOUNDATION SOIL WITH EXPANDING RESIN INJECTIONS
We offer solid solutions to meet the needs of engineers, technicians, designers, construction companies, general contractors, private citizens, and companies.
We are at your side, CARRYING OUT WORK, and we also work on subcontract to solve specific problems in limited areas.
Thanks to our internal technical office and team of engineers and geologists, we are also available for CONSULTATION and ASSISTANCE with PROJECT DESIGN.
WE KNOW YOUR WORLD
AND WE KNOW HOW TO ACT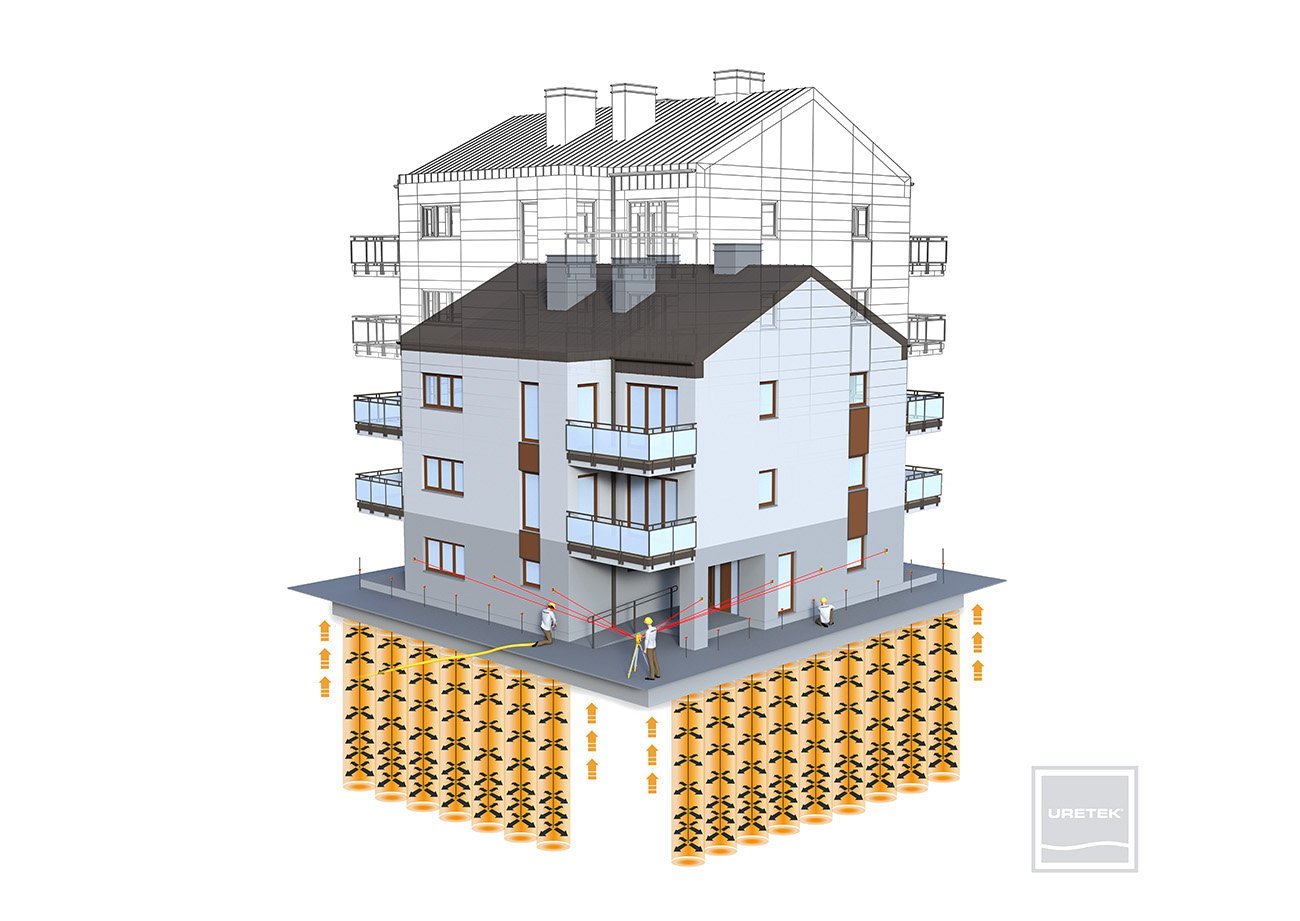 WE WORK IN THE RESIDENTIAL SYSTEM TO:
Consolidate structures and foundation soil

Improvement of the mechanical and hydraulic properties of foundation soil
Elimination of differential subsidence caused by washouts or erosion
Recovering the lift of the terrain in the event of instabilities due to differential subsidence.
Consolidation of masonry structures by rebuilding deteriorated binding agent in the wall surface
---
Mitigate seismic risk

Securing damaged buildings
Helping to upgrade buildings due to load increases
Mitigating the risk of foundation soil liquefaction
Seismic improvement of masonry through injections for consolidation
---
Secure structures pertaining to the building or carry out extraordinary maintenance

Stabilizing walls and retaining walls that are bowed or settling
Halting infiltration from masonry and retaining structures that show discontinuities (basements, cellars, lift wells)
Filling and tensioning natural or man-made underground cavities at risk of potential collapse.
Stabilizing and lifting floors by consolidating the subgrade and recovering planarity
---
Structural support interventions for additional storeys, new installations or uses, or new constructions

Enhancement of the mechanical and hydraulic properties of foundation soil
Increase in lift of masonry parameters and retaining structures (pools on embankments, car parks, etc.).
Independent of the cause of subsidence, we make improvements to allow the soil-structure system to adapt to the new static situation.
HOW WE ACT
We inject expanding resin using patented methods. We have completed more than 55,000 projects. We have 30 years of experience reaching objectives with high customer satisfaction.
---
Targeted, custom interventions

Study
based on specific needs
Project design
based on the structural and geotechnical conditions of the site
Sizing
calibrated with our exclusive calculation software
Custom projects
real-time adaptation to the real conditions of the terrain and structures
Immediate results
results and benefits immediately following the work
---
The exclusive Uretek Geoplus resins feature:

High reactivity and quick polymerization
Strong expansion with high swelling pressure
High resistance to compression over time
Wide spreading
See how we have resolved issues
in the residential system
We are close to you and we work wherever in the world our professionalism is needed.
We are familiar with your area and bring with us multinational experience.
In 30 years of experience,
we have completed more than 55,000 projects.
WE ARE THE SOLUTION
TO SEVERAL NEEDS