The structural elements of the box-like structure and connection ramps had become disconnected. At the junction points, drainage pipes had been laid within the thickness of the road subgrade to capture groundwater. However, these were frequently clogged by solids in the water, which consequently seeped through the road surface, inundating the carriageway and endangering vehicle traffic.
Customer needs
It was necessary to work quickly to secure the carriageway while impacting road traffic as little as possible.
Why the Uretek solution was chosen:
Speed
Careful planning and programming of the times allowed the work to be completed in just a few days;
Non-invasive
The intervention proposed by Uretek did not require excavations or masonry work, and it did not dirty the area or produce waste;
Localized work
The Uretek team delimited the work area, allowing regular traffic flows on the road and railway;
Continuous monitoring of the work
Both during and after the intervention, the activities were subject to control by highly qualified personnel using advanced laser technology;
Use of the patented Uretek Water Barrier® technology.
With the use of expanding resin and saturating gel, it stops infiltration in masonry, usually retaining walls, which contain discontinuities.
Respect for the environment
Above-ground mixing of the Uretek® resin creates a final inert product that does not release solvents into the soil or possible water tables in the area.
Uretek is qualified in the special category LOC001 (SQ011 QUALIFICATION SYSTEM 'CIVIL WORKS AT THE RAILWAY SITE') and by SNFC for know-how in the railway sector.
Our intervention involved application of the patented Uretek Water Barrier® technology. Via holes (diameter 12 mm, spacing 60–90 cm) made in the slabs before and after the horizontal joints and in the walls, we injected special expanding resins in the foundation soil of the slabs and in the zone protected by the vertical walls. In this way, we stopped the infiltration in these areas (57.0 m of horizontal joints, 67.0 m of vertical joints), reducing the counterpressure of the water table on the joints between the slabs and wall surfaces.
The 90–95% reduction in groundwater pressure below the slab and behind the wall surfaces allowed us to move on to the next treatment. In the second phase, we sealed the pores and cracks in the concrete with a saturating gel that flowed through the cracks in the structure or remaining discontinuities between different elements, stopping any water.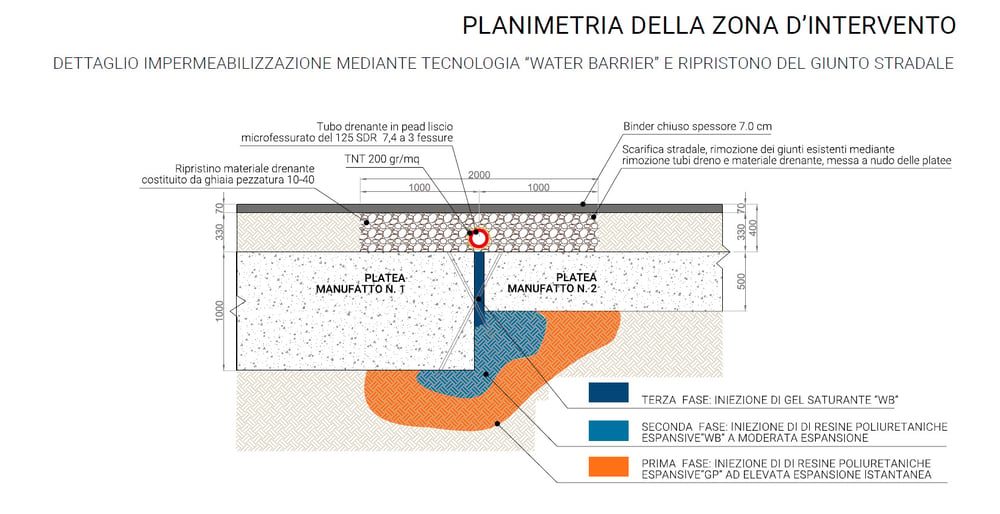 Observations
The polyurethane resins have an elastic modulus similar to that of soil and, since they are lighter than the soil, they do not weight it down, maintaining the thrust at the base of the existing structures.
THE INTERVENTION IN DETAIL
The railway underpass before the intervention.
Sealing the vertical joints.
Sealing the horizontal joints.
Detail of the injection control pressure gauge
WE ARE THE SOLUTION
TO SEVERAL NEEDS