During the winter, when the basin is empty, significant water flows can obstruct the fairing of the boats, requiring the use of high-flow pumps.
This infiltration is due to the fact that the basin is 2.20–3.40 m deep and lies below sea level. It also receives water from springs located among the hills and mountains overlooking Villefranche.  The successive filling and draining of the basin has led to the erosion and disintegration of the masonry.
Customer needs
For years, the Port Authority had been looking for a solution that could at least limit the level of water infiltration.
Why the Uretek solution was chosen:
Speed
Careful planning and programming of the times allowed the work to be completed in a short time;
Competitive prices
Non-invasive
The intervention proposed by Uretek did not dirty the area or produce waste;
Continuous monitoring of the work
Both during and after the intervention, the activities were subject to real-time control by highly qualified personnel;
Application of the exclusive Uretek Walls Restoring® technology
A special expanding resin with high swelling pressure is injected into the soil, compacting it and stabilizing the structures, which is perfect for interventions in underwater environments;
Respect for the environment
Above-ground mixing of the Uretek® resin creates a final inert product that does not release solvents into the soil or possible water tables in the area.
We applied the Walls Restoring® technology to treat a total of 180 m of joints in the stepped side walls where the largest amounts of water were flowing in. 
Using 12-mm tubes situated at an inter-axis distance of 40 cm, we injected the exclusive Uretek resin, which, with its expansion capacity, filled the voids and rebuilt the binding agent between the stone blocks. This project required three days of work and two of our special shop trucks.
Injection grid: 40 cm on the side walls.
Laser-controlled injections.
Injections on the side walls.
Detail of the laser used to control the injections.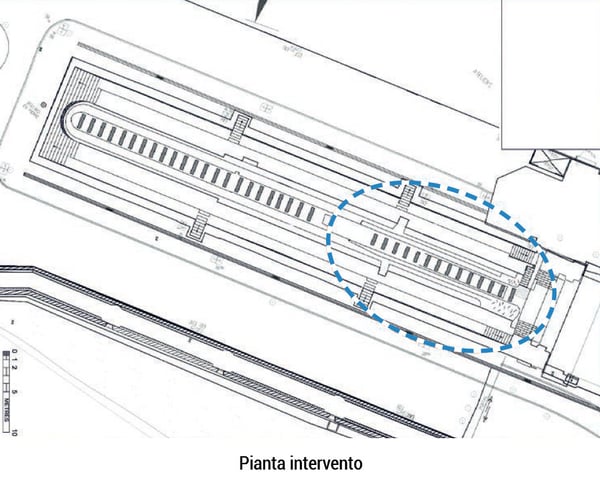 Drilling before inserting the injection tubes.
Installation of the injection tubes in the holes previously made.
Column-type resin injection, that is, extracting the tube during injection.
Mechanical impedance tests showing thickening in the zones where the resin was injected.
WE ARE THE SOLUTION
TO SEVERAL NEEDS